BROWNING BAR M1918 .30/06 DO EVERYTHING MANUAL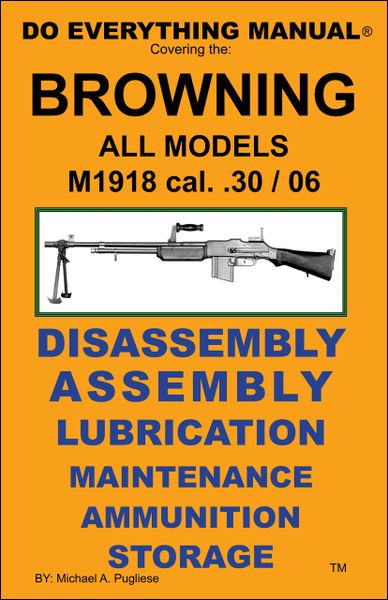 BROWNING BAR M1918 .30/06 DO EVERYTHING MANUAL
Browning B.A.R. All Model 1918 cal .30-06
Do Everything Manual
The book covers the following topics:

Parts Identification
Cleaning and Inspection
Armorer's Disassembly
Armorer's Assembly
Armorer's Tool Blueprints
Targets & Ammunition

This manual is published by JEM Enterprises/Do Everything Manuals, LLC.
The original publisher of this manual was M&M Engineering.
The book was written by Michael A. Pugliese of M&M Engineering, a famous author who has been writing manuals on proper gun care and maintenance for over 20 years.
The manual was written so that anyone can understand the instructions, not just an engineer or gunsmith.
5-1/2" X 8-1/2"
54 pages
Black and white
This book is NEW
This book is proudly published in the

UNITED STATES OF AMERICA.
30-06
Featured Products