THOMPSON SUBMACHINE GUN SMG NATIONAL ARCHIVE COMPILED TRAINGING FILM DVD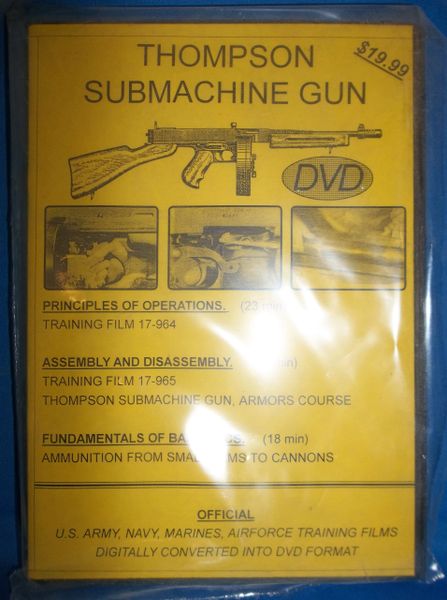 THOMPSON SUBMACHINE GUN SMG NATIONAL ARCHIVE COMPILED TRAINGING FILM DVD
Thompson Submachine Gun DVD
·
This DVD is a compilation of US military training films from the National Archives.
·
The films on this DVD are:
TF 17-964 Principles of Operations (length: 23

minutes)

TF 17-965 Assembly and Disassembly - Thompson Submachine Gun, Armors Course (length: 26 minutes)

TF 9-1512 Fundamentals of Ballistics (length: 18 minutes)
·
The DVD was compiled by M&M Engineering.
·
The DVD is copyrighted and made by JEM DVD Productions, a division of JEM Enterprises.
·
The DVD was digitally converted from 16mm films , to improve picture and sound quality. Despite this, this DVD is still from old film, and still has some of the deteriorated, grainy look and sound that you would expect when watching an old film or movie.
·
These films were originally designed to entertain as well as educate recruits in the aspects of tactics and weapons during WWII, Korea, and Vietnam
·
This is a NEW DVD.
·
Film is in black and white
This DVD is proudly made in the UNITED STATES OF AMERICA.
Featured Products